These opinions are my own
We live in an age where music is more easily accessible than ever. Physical sales are no longer skyrocketing like they once were, all due to the ability of digital streaming. To not adapt to the way our world is changing would be futile for any label or artist. That being said, should streaming be counted in the calculation of giving a record the high honor of Platinum status?
As you may have read by now, the RIAA has confirmed they will be including streams when certifying an album or individual record's sales count. Before we go any further it should be noted that the ratio is not 1:1. Rather, the units are as follows:
· Each permanent digital album or physical album sale count as 1 Unit for certification purposes.
· 10 permanent track downloads from the album count as 1 Unit for certification purposes.
· 1,500 on-demand audio and/or video streams from the album count as 1 Unit for certification purposes.
This has caused albums such as Michael Jackson's Thriller to go 32x Platinum. While Rihanna's latest studio album ANTI achieves a Platinum Award despite selling a reported 460 copies in its first week. In both cases, this seems quite misleading. Granted these are only two examples, but Thriller is the best selling album of all time and doesn't need the verification of this new ruling system. Meanwhile, ANTI can't even hit the 500 mark and now holds (what was) one of the highest honors in music as a Platinum Album. Simply put, that seems absurd.
As you can imagine, all of this is causing quite the stir in the music community. Billboard and Nielsen have already said they won't recognize the RIAA's new system and even Kendrick Lamar's camp (who's album To Pimp A Butterfly is now "certified platinum") took to Twitter to say they won't accept it either.
we don't stand behind this @RIAA bs. ole skool rules apply, 1 million albums sold is platinum.until we reach that #, save all the congrats.

— dangeroo kipawaa TDE (@dangerookipawaa) February 1, 2016
We've also gathered some other reactions to the news and got a good mix of feelings: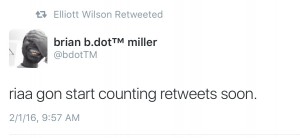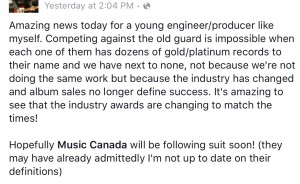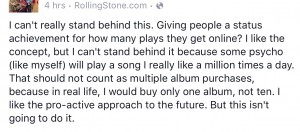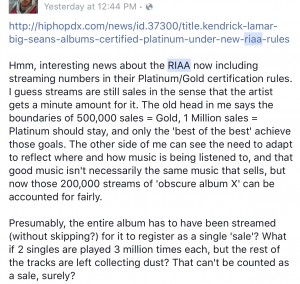 lol at RIAA desperately trying to justify their outdated existence. So cute.
— Gramatik (@Gramatik)
February 1, 2016
RIAA counting streams as "Platinum" records kinda makes me scared that even more people are gonna start to fake their play counts …

— ??VALENTINO KHAN?? (@ValentinoKhan) February 1, 2016
One artist has told me "I think there's no place for the RIAA in today's musical climate. Even though they're trying to include streaming into their equation, it's an antiquated system at best and the measure of success is no longer in streams or in sales. The measure of success is in your organic fan base." While I generally agree with this statement and would say a lot of other artists do as well, I still would like to see some bar of national recognition for an artist's achievements.
All of this leads me to ask, is there a better way? Or is the system just too out dated? As stated at the beginning of this article; to not adapt to our changing world of music would be a death sentence to any artist or label. However, to combine digital streams and physical sales into one category would be, at best, deceptive. To be fair, Album Certifications are way down and the RIAA claims to have done extensive research over the last decade in order to raise the percentage of certifications.
So myself and a few others have come up with a rough draft of a new proposal for task at hand. If the RIAA is so keen on upping the amount of Gold and Platinum awards, then let's really take this all the way and make 2 categories: Digital and Physical Sales. Give digital streaming its own class and decipher a proper ratio (1,500 plays seems a little too easy in an age where buying "plays" is all too simplistic). In conjunction with that, leave physical sales as it always has been; 1 million sold copies is Platinum status and half of that is Gold.
While we're at it, let's take this a step further. Rather than dialing the new found policy all the way back to 1950's, lets declare the digital streaming age from 2006 and beyond. That means, any album published from 1/1/06 and beyond, qualifies for the new rulings. Anything prior to this date must adhere to the original guidelines. Reason being is that Spotify was founded in 2006, then Soundcloud in 2007 and so on with the new era being swept in with numerous other platforms.
It should be noted that the RIAA recognizes roughly 97 sources in which you can stream, download and physically purchase music. Of these, Soundcloud does not appear to be included. This only makes me question things a little more. They do however have a third party auditing team carefully combing through each album or record's statistics so that fans may be assured the awards are legit. Nevertheless, the general public still doesn't agree with the change: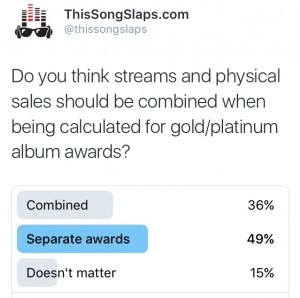 To be honest, this is somewhat of a plea to the RIAA. Award ceremonies such as the GRAMMY's are nice but at the end of the day those achievements are all based on opinions of major labels, yet each individual listener's taste in music is entirely subjective. Gold and Platinum statuses were the real benchmark of the industry at one time because it was solely based on factual numbers. Now, it feels like one of the remaining ways to gauge an artist's success is being tainted or tampered with. It's like baseball with the steroid era. Where's an Oprah meme when you need it?
The post The Times Are Changing: The RIAA Now Includes Streams Towards Gold And Platinum Album Awards appeared first on thissongslaps.com – Electronic Dance Music & Hip-Hop Media.